Outdoor trips
In times of the pandemic, the need to explore and visit places was put to the test but with outdoor trips we have discovered the beauty of our peninsula. Unable to leave one's region or country for long, there was nothing left to do but enjoy the countless magnificent places on our peninsula. People living in regions such as Sicily, Lazio, Campania, Tuscany, and Apulia have a wide range of offerings, but for those living in regions that are "secondary" in terms of tourism, finding something fun to do is no small challenge.
Italy's most productive regions, Lombardy and Piedmont actually are filled with interesting gems for those who do not want to lose the taste for travel and discovery.
What to see in Piedmont?
In Piedmont, during the months of June and July it is possible to observe lavender blooming in a small village called Sale San Giovanni, not far from Ceva, in the province of Cuneo. This small village, unknown to many, is starting to attract more visitors precisely due to the presence of several lavender fields in this bucolic atmosphere that have immediately become the protagonists of many shots on Instagram
Also, by travelling to these purple rows in Piedmont instead of Provence visitors can save a lot of driving time and forgo any border restrictions.
Unusual places in Piedmont
For those who are looking for additional ideas for outdoor trips (besides going to an "Alba Truffle" festival or Monferrato) one of them, definitely more unexpected, is collecting stamps for your Big Bench passport.
Big Benches are the brainchild of Chris Bangle, an American but who has been resident in Piedmont since 2010. Chris had the first big bench installed on his land in Clavesana where his home and studio are based, and this bench overlooks the landscape and is accessible to the public, so as to provide a space to observe the beautiful surrounding landscape and offer the public some noteworthy food for thought. Oversized benches are not new, but the innovation brought by Chris Bangle is the location of the benches themselves, precisely in the new setting in which they are placed.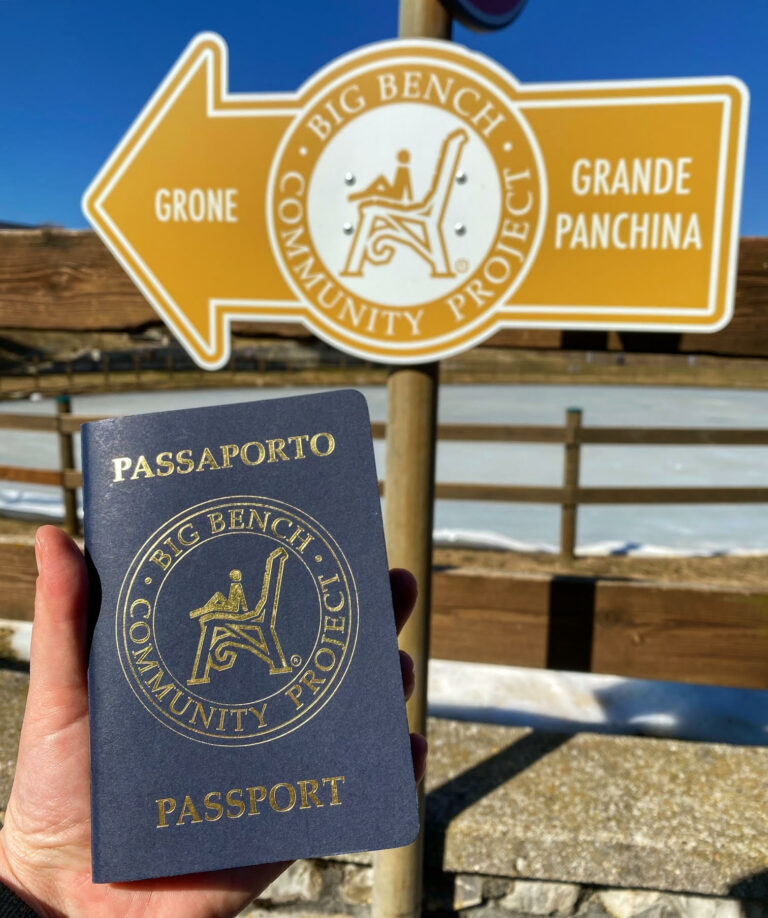 Chris, an advocate of the concept of the individual, is often looking for new cues, without placing too much importance on known experiences, but in a different context he has literally hit the mark. Over the years, other official benches have been built in Piedmont and even outside this region, without public funds, only thanks to private sponsors. Chris volunteered in the endeavour, providing free designs and guidance to bench-building companies, with the condition that they be placed in a publicly accessible vantage point and that they respect the spirit he so desired: no private installations, but part of a collective experience that everyone can share by visiting these areas.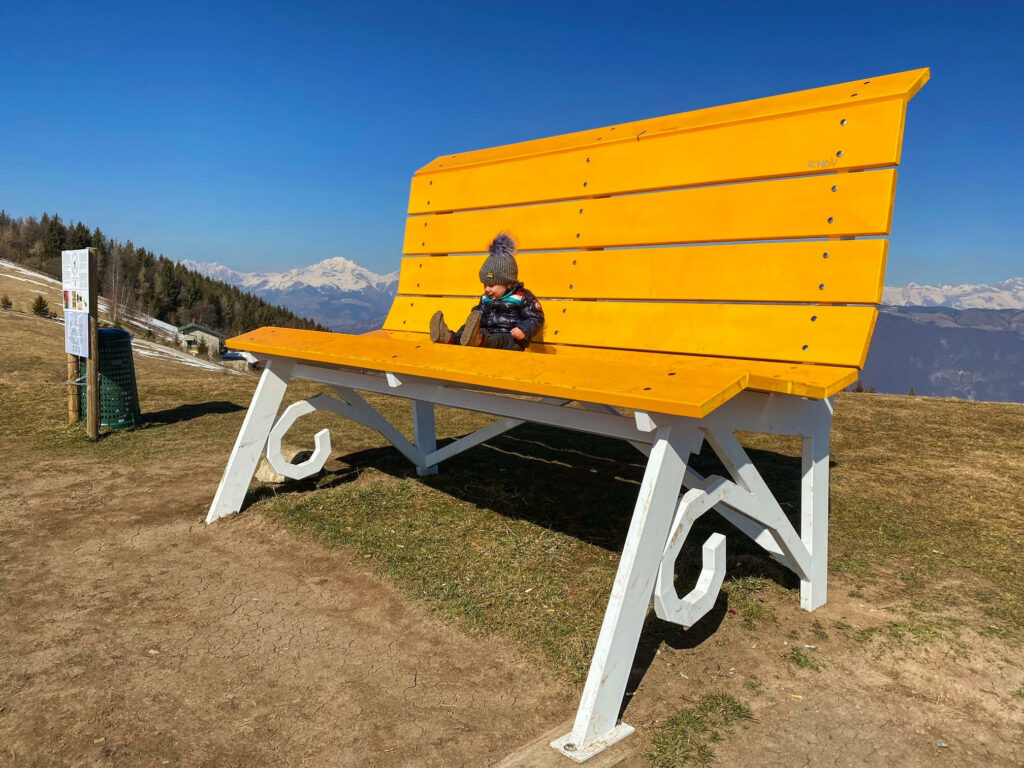 The feeling one gets from sitting on a bench is like stepping back in time and becoming a child again. The benches can be visited alone, with one's family or with a group of friends, and are wide enough to accommodate several people at once, even in times of social distancing.
Related to this philosophy of thinking, the Big Bench Community Project was born. It began with a personal project, but later thousands of people became involved with the idea to enjoy beautiful landscapes while observing them from the comfort of a bench of gigantic proportions.
Naturally, the benches triggered a very wide social interest, so much so that a related app (in continuous evolution) with information about each bench was created as well as a paper passport where stamps of the various benches visited could be collected.
There are now about 140 benches scattered mainly in northern Italy, but this project is continuously being expanded. Some are easily accessible, while others are in more hidden and remote locations.
For those who wish to get great photos of lavender fields and visit the Big Benches all in one trip, the second half of June and the first week of July are the best times.
You can visit the benches year-around and take photos anytime to have variety of seasonal scenes.